Gold Back Below $1,800, But Virus Limits Downside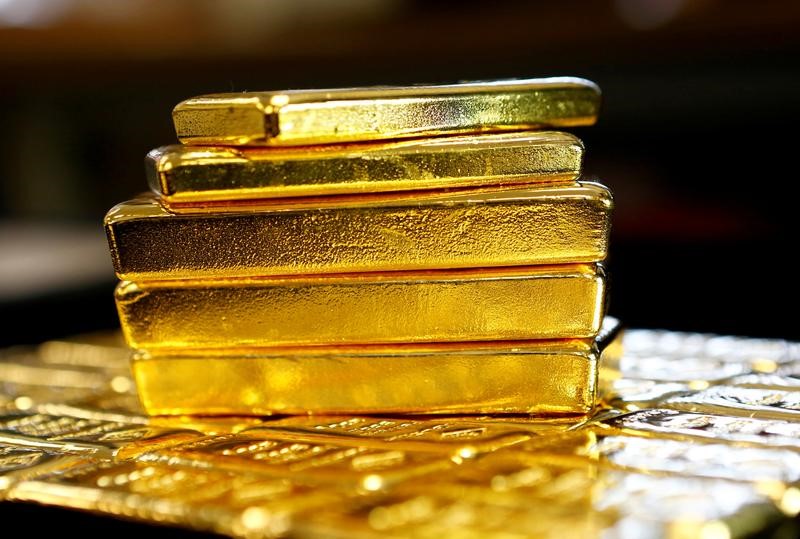 © Reuters.
By Barani Krishnan
Gold fell back swiftly on Wednesday after investors booked profits on its rally to $1,800 an ounce, but backers of the safe haven said they did not expect it to fall too much in the near future owing to the resurgence in COVID-19 cases.
"The virus presents the most risk to rising long-term breakevens, which have been a powerful driver supporting gold prices," TD Securities said in a note.
"Looking forward, however, we expect that this driver has room to run, as the entire maturity spectrum of inflation breakevens are still priced below policy objectives. In this context, declining real rates should imminently support gold prices into the $1,800s."
U.S. gold futures for August delivery on Comex settled down $20.60, or 1.1%, at $1,779.90. On Tuesday, August gold hit $1,803.95, the highest for a benchmark contract on Comex since the all-time peak of $1,911.60 set in September 2011.
Spot gold was down $8.66, or 0.5%, at $1,771.83 by 4:00 PM ET (20:00 GMT). The real-time indicator of bullion prices scaled $1,785.97 in the previous session, a peak since the record high of $1,920.85 achieved by bullion since September 2011.
The United States has reported some 40,000 new daily coronavirus cases in the so-called "second-wave" of the outbreak, and top U.S. pandemics expert Anthony Fauci said on Tuesday this could grow to 100,000 daily without proper social-distancing and other safety measures.
Data shows that some 2.7 million Americans have already been infected by the Covid-19, with a death toll exceeding 130,000. A new model by the University of Washington also predicts 200,000 coronavirus deaths in the United States by Oct. 1, casting further doubts on economic reopening from lockdowns.