Gold Up, Remains Within Striking Reach of $1,800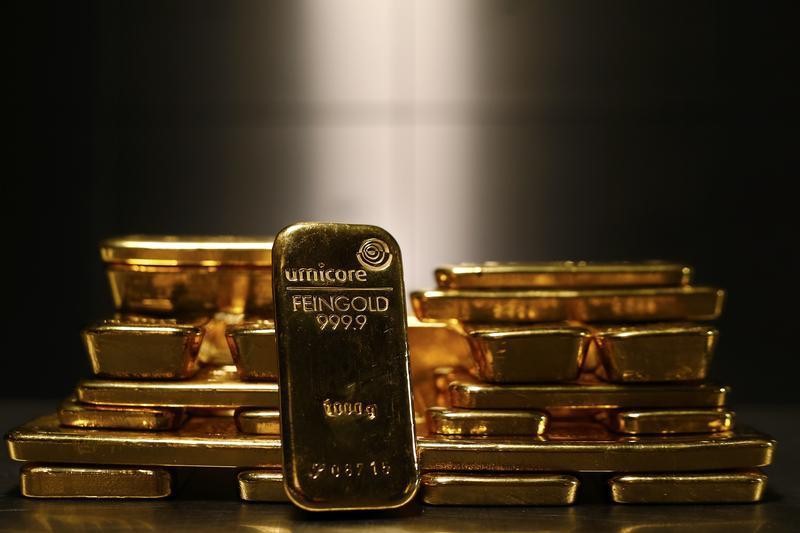 © Reuters.
By Barani Krishnan
Gold stayed within striking distance of the $1,800 per ounce target on Monday, with the safe-haven crowd keeping the yellow metal in positive territory despite an unexpected ramp up in risk by investors shrugging off some of their fears over the Covid-19.
U.S. gold futures for August delivery settled up 90 cents, or 0.05%, at $1,781.20 per ounce on New York's Comex. On Thursday, the benchmark gold futures contract spiked to $1,796.10 , the highest reached on COMEX since November 2011.
Spot gold, which tracks real-time trades in bullion, rose by 80 cents, or 0.05%, at $1,772.27 by 3:24 PM ET (19:24 GMT). The bullion indicator hit an intraday high of $1,779.45 on Thursday, marking a peak since October 2012.
"Gold is continuing to edge its way towards its next huge test, which will come around $1,800," said Craig Erlam, markets strategist at New York-based online trading platform OANDA.
"A break above here could be huge but, as has been the case for so long with gold, we may just have to be a little patient. The strength of the dollar continues to slow the ascent but it is gradually falling out of favor as economies reopen."
The dollar, a contrarian trade to gold, was up 0.07% at 97.472, measured by an index pitting the greenback against a basket of six currencies.
On Wall Street, the Dow rose 1.8% as investors overcame some lingering jitters over the Covid-19, whose global infection rate surpassed the 10 million mark over the weekend. U.S. stocks also rallied on Monday as Boeing (NYSE:BA) made a show of the rectification process for its grounded 737 MAX jets that gave some hopes of recovery for the badly impacted aviation industry.